This is Joel. I am hijacking Erica's blog to record our 1st cub scout campout.
Although I am the den leader of our group, I have no clue what I am doing. So imagine my surprise when we arrive at camp in the dark and begin putting up tents and I am done in 10 minutes. I am sure i looked like a pro, even though we had the most simple tent in the world. The boys were not scared, they were energized.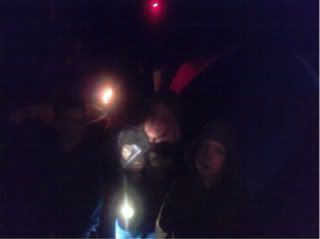 Clayton, Brayden, and Caleb played in the dark. They were so excited to be at their first campout. We made s'mores on the campfire the first night. It was great.
Here we are after lights out. Clayton was a little nervous, but he did great. The temp dipped into the 40's, but we made it through. Mom packed us plenty of layers.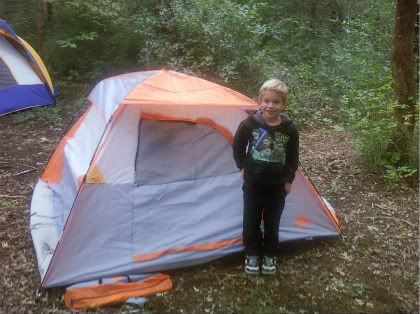 Rise and shine. We finally got to see the tent we put up in the dark. Clayton was the ideal camper. He didn't complain about much and was up for anything. We had egg and sausage burritos for breakfast.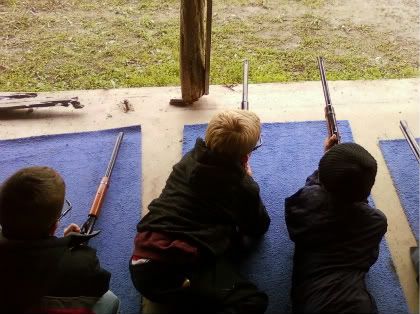 BB guns were a lot of fun for everyone. Clayton's target was pretty safe. Next time I'll take a picture of his brother or Darth Vader and he probably won't miss.
Clayton was pretty good with a bow and arrow. He hit the haystack every time and loaded it himself every time.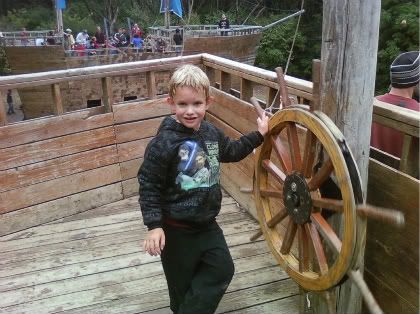 Clayton's favorite thing by far was the mud fight between two huge pirate ships. This was an incredible experience of pure elementary school chaos. There were a few adults taking this too serious (i took it upon myself to humble them with some well place water balloons.) Some adults just need to grow up. Clayton did a great job of blasting the other kids. Way to go, son! My Boy!
OK, Now Erica can have her blog back.